Photo Credit:
Elizabeth Lauren Photography
Weddings Are Expensive
Time, sweat, tears - planning your own wedding is a labor of love. If you have the money to hire a planner, do it! If not, you're probably in a first class seat on the DIY train. The good news is, I'm here to tell you it is totally possible to create the wedding of your dreams on a small budget! And I'm not talking burlap and mason jars - I mean, an on trend wedding can be yours. Jonathan and I were married this past June at Barn at Back Creek in Buchanan, VA. We had a little over a year to plan, and during that time I connected with some incredible vendors and suppliers. This will hopefully give you some insight into how we were able to pull off our wedding for under $6,000. At the bottom of this post, I'll be sharing some promo goodies from some of our vendors, so if you're wanting to follow our lead at all, definitely take advantage of those!
Invitation Suites
Your invite is like the curb appeal of a home. It gives off an immediate vibe as to what kind of people you are, and what your wedding is going to look like. I put so much thought into our invitation suites - ultimately Jon and I knew we wanted something that captured us as a couple, and a few things we love are kayaking, canoeing and hiking. Addie is the artistic mastermind at
Little Ivy Paper Goods
. She discussed our vision and designed this stunning invitation suite just for us. She allowed me to view and revise during the process and bring our ideas to life. She even had the cutest idea to add a cairn on the RSVP cards! If you want to see more of her whimsical work, you can stalk
her Insta.
Venue
There are so many different types of venues. It's super important to find a place that resonates with you and your man. There are two things to keep in mind here. 1. It's going to take time. A lot of time. 2. Your venue determines your date (who knew right)? If you do a quick google search for venues in your area, you are going to find a lot of country clubs, farm/plantation venues, wineries and event spaces. And they are usually crazy pricey. This is probably the hardest part of the planning because everything you do hinges on the venue, since it determines the date. It's the first thing to knock off the list, so the key here is lots and lots of research. Cue the groans. I know, I'm sorry! Challenge yourself to think outside the box - research local farms, state parks, art galleries, loft spaces, summer camps - you name it. Often times even really great downtown coffee shops and restaurants allow events, and usually don't charge too much.
I discovered
Barn at Back Creek
while shooting another bride's wedding last fall. The venue sat nested near the Blue Ridge Mountains on several acres of rolling green hills. One thing I adored about this venue was the customizability. Donna and her husband were so easy going in allowing us to set up our ceremony and reception space wherever we imagined, which is something you'll find many can be super rigid about. We chose to have our ceremony on a corner of the property surrounded by forest and wildflowers. Some friends of ours helped us set up the day before and build our arbor (which still remains on site, so if you're a VA bride, you can use our arbor)! Our reception took place on another nearby spot where Donna hung string lights in the trees above our tables. For dancing, we headed into the barn. Hanging from the beams were lights, soft white chiffon fabric draped from the center and a crystal chandelier. Best part? Donna had a ton of gorgeous antique furniture, and also provided our tables, chairs and table cloths (huge money saver right there).
Florals
Flowers make such an incredible visual impact when it comes to a wedding. We didn't want to do anything traditional, so I began researching other options. I discovered the world of dried florals, and the world of
Westerwisp
. Did you hear that? I think I heard angels singing.
Cat creates the most breathtakingly gorgeous floral arrangements using dried foliage and her designs are to. die. for. If you do anything, please go
follow her on the gram
right now so you can see all the goodness for yourself. Cat was in charge of my bouquet, the groomsmen's boutioneers and the bridesmaid hair accessories. One thing I love about these is the fact that they are already preserved, so you can keep them as a memento after the day has passed. Even better? No stress about keeping them alive and you can have them shipped to you in advance.
The Dress
Girls. Hear me on this one. Go dress shopping, find the dress you love and then go home. I have amazing news for you. I designed my own dress for $800. Ekaterina Kalache is the incredible wedding gown designer at
Onovian Gowns
. She has a line of her own breathtaking creations all ranging from an average of $400-$1000. Sigh a breath of relief - amazing right? Even better, if you are a creative lady, you can sketch or discuss your dream dress, and the Onovian team will bring it to life. These women were so patient with me - I changed so many details along the way - they sent pictures of the process and completed my dress in a month. If you want to learn more, you can check out
their Facebook page
. Don't leave this post without checking out their site - you will not regret it, I promise!
Little Touches
It's the little touches that will make your wedding unique. Jon and I spent many hours combing thrift and antique shops for brass candle sticks, all of our glassware and plates. We wanted a laid back, eclectic feel to the day, so mismatching plates totally worked for us. If you are going this route, Goodwill, my friends, is the answer. We purchased glassware and plates for 70 guests at a grand total of about $30.
Tip number two? Etsy. Etsy! I love this website so dang much. If you love unique, one of a kind touches, this is the place to shop. I found these adorable Happy Camper bags at
The Homespun Hostess
and knew they'd be perfect for our trail mix bar (our cocktail hour snack). They were a widespread favorite among our guests!
Styling + Decor
A few years back I worked as a social media rep for
We Can Package,
a wedding and event supply company that is perfect for budget conscious brides. As soon as we started planning, We Can Package came to mind as the perfect source for our essential decor, like the gold chargers, leather and moss table runners, and geometric glass candle holders (obsessed with these). The chargers were my favorite, and definitely worth the investment. Visually they put distance between the tablecloths and the plates and made our tablescape pop. The website is an incredible hub for finding pretty much anything you have in mind for your day. Think every color and style imaginable. It's super fun to browse through their inventory. Right now I'm crushing on their faux succulents.
Our menus were one of my favorite elements of the reception. They were designed by the incredibly talented ladies at
Songbird Paperie
. Personal opinion here - one thing that really upgrades a wedding tablescape is some type of paper good on the plates. We decided to take it a step further and add leather ribbon and guinea feathers. You can discover more of Erica and Rosie's design work on
their Insta.
Greenery
As the wedding neared, I knew I wanted eucalyptus. Back in Cali, it grows everywhere, and is super easy to find growing all around. In VA? Not anywhere to be seen, and often pretty expensive. Cue
Save-On-Crafts.
They sell tons of different dried greenery for a really great price. Each bunch came with several branches, so we pulled them apart and made them go a really long way. We used these on all of the tables, as well as the arbor and in the lanterns. I kept a bit after the wedding and it makes our apartment smell uh-maziing.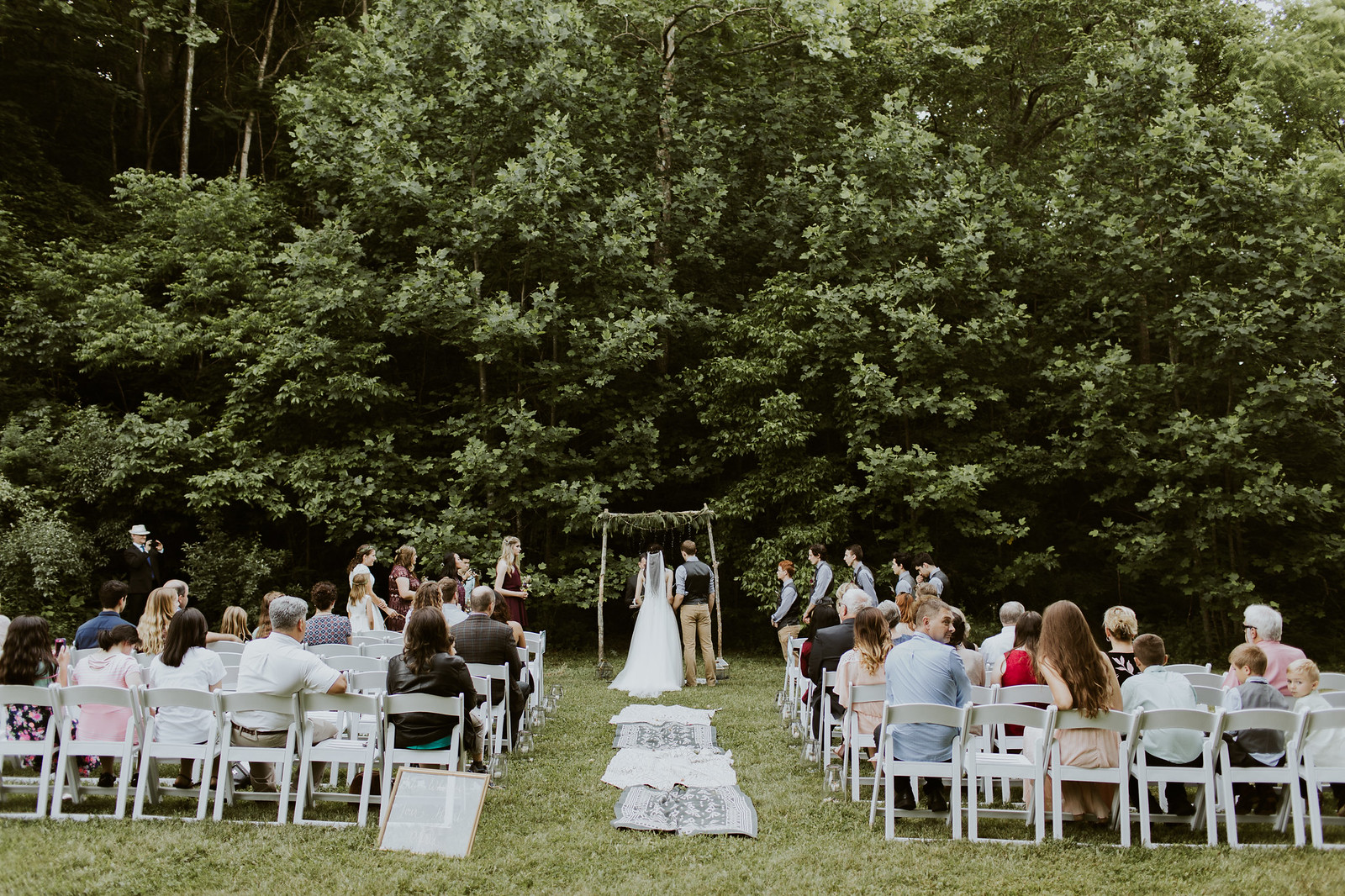 The Wedding Party
It's something you don't always think about, but wedding party clothing can be expensive as heck. Typically each member pays for their own outfit, and because of this you really have to keep a budget in mind. For the girls, my MOH (sister) and I went to Francesca's and picked out dresses for each bridesmaid in their size and put them on hold. The girls were able to buy and pick them up on their own time, and no dress was more than $30. For the gents, Jonathan and I found most everything at Target. We just created a registry and sent the link to the boys. The nice part, we thought, was rather than renting a suit for over $100, they were able to purchase nice dress clothes that could be used again.
Also, I can't forget to mention - I love my veil so much, and it would be a crime not to credit
Blossom and Bluebird
for this stunning piece. I knew I wanted a drape veil, and this one took the cake. It's made from soft english tulle so it's incredibly fine and soft. It created such a gorgeous draping effect.
The Cake
Haha - funny story. So I had every intention to make my own cake. Ladies. DIY, two tier naked cakes are not as easy as they look. My bridesmaids helped me make the cake, and in less than an hour it caved in on itself. So we made a last minute improvisation and ran to Walmart of all places. I have to say, I actually love the way this cake looked! It cost us about $10, was super pretty and tasted awesome. For our guests we served pie from Sam's Club.
Catering
This may have been our biggest area for saving! Jonathan's family was awesome and made bbq turkey, which we put on sandwich buns and served with potato salad and fresh rolls. Some friends of ours cooked everything the morning of, and it was ready to serve at the wedding. Catering is crazy expensive and adds up like no ones business. We found this to be a really great option, and everyone's tummies were happy.
Our DJ
We had a rad DJ, guys! Picking a DJ is actually super important if you want a good party. Jonathan and I have shot a lot of weddings, and not all disc jockeys are alike. Our guys from
MG Productions
were so fun, and really knew what songs to play to get everyone on their feet (a skill, considering many of our guests weren't the dancing type). They came with a full spread and covered the music for everything from pre-ceremony, during ceremony, dinner/cocktail hour to dancing the night away. And they brought colored up-lighting for the barn, which was an awesome surprise and really did add a fun touch to the space. If you are a VA bride - definitely check them out! They also have really great package options at really great prices.
If you aren't hiring a planner, so much work goes into creating a wedding for the books. But Jon and I were super blessed by amazing individuals who really made the day possible. So many of our friends made sure everything ran smoothly, helped with set up and even helped with food.
Jonathan and I are able to look back and really love our wedding and how everything played out. At the end of the day, you're marrying your best friend, and so much bright, beautiful future is ahead.
Promo Codes
Westerwisp: Purchase a bridal bouquet, and receive four complimentary boutonnieres. Enter promo code at checkout: AlexandJon
Little Ivy Paper Goods: Use the coupon code ITW10 at checkout on the Little Ivy Paper Goods website to receive 10% a purchase of $50 or more.